Do you suffer with excessive sweating? This is called Hyperhidrosis,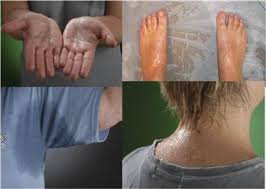 Sweating is necessary to control body temperature during times of exercise and in warm/hot surroundings, and is a normal response to a rise in temperature or anxiety. Sweating is regulated by the sympathetic nervous system. In about 1% of the population, this system is revved-up and works at a very high level, causing sweating to occur at inappropriate times, far in excess of the amount necessary to maintain normal body temperature. It can occur in many different areas of the body, and the condition is known as Hyperhidrosis, which means 'excessive sweating'. It affects both sexes equally, and all races.
Hyperhidrosis is not a temporary condition. Many people who suffer from it have suffered for many years, often from childhood or sometimes from adolescence. Hot or cold, the sweating is constant, and the impact of hyperhidrosis can be severe. Wetness and staining of clothes, clammy hands and sodden smelly shoes, inability to grip objects such as pens, cold and wet handshake, damage to keyboards and difficulty dealing with paper and metals, can make a miserable existence. You may constantly worry about changing clothes, freshening up, using absorbent pads or sticking with loose black or white clothes, and may avoid making friends or interacting with people at work. Patients report that they are even embarrassed to hold the hands of those they love. Loneliness, depression and decreased confidence can result.
Excessive sweating can also cause irritating or painful skin conditions. There are a number of treatment options from Aluminium Chloride antiperspirants to surgery.
You do not have to live with Hyperhydrosis and Essex Private Doctors can treat this for you with Botox for hyperhidrosis which normally lasts around 4 months, although some patients describe symptom relief for much longer periods of time.
Please get in touch for a thorough consultation on 01277 201001.
.